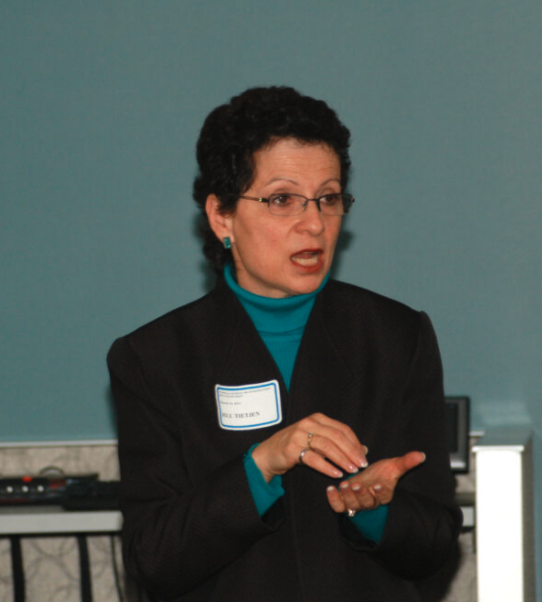 Jill S. Tietjen brings to her audiences her unique perspectives of engineer, community leader, and business professional. Her diverse clientele range from business organizations to universities to non-profit organizations.  She relates to the audience through examples and anecdotes, serious and humorous.
"Thank you for your inspiring and fun presentation. Your energy is amazing. Those of us who now own your books will enjoy them immensely. We enjoyed every minute of your talk."
Mountain ReNDEzvous Chapter, NSDAR, Evergreen, Colorado
Workshop Offering
Thriving As Your Authentic Self in Today's Workplace
 The woman behind the registration table was incredulous when I introduced myself as the lunch speaker. "I thought Duke Power was sending an engineer," she said. All 5'2″ of me had not conformed with her assumptions of what an engineer looked like. But I am an engineer! I learned to thrive throughout my 45+ year career. In this half-day workshop, I share some of my strategies for thriving that anyone can incorporate into their careers and lives. Suitable for any employee, and especially valuable for early career and mid-career employees.
Showing up as our authentic selves leads to higher productivity, a higher level of job satisfaction and a better life for everyone. This workshop builds on each individual's existing skills and provides them with stories, interactive exercises and resources to enable them to thrive in today's workplace as their authentic selves. Specific skills that will be addressed during the workshop with tips for enhancement include:
Making New Habits and Breaking Old Ones
Emotional Intelligence
Resilience
Optimism
Networking and Social Support
Humor
Click here
for more information.
All of Jill's speaking appearances are customized to meet the interests of her audiences. To provide some ideas, here are some recent topics and titles.
 Over, Under, Around, and Through: How Hall of Famers Surmount Obstacles
Everyone faces obstacles in their lives. Absolutely everyone. Through stories of Hall of Famers who overcame obstacles, Jill provides information on the lessons they learned to become stronger, smarter, and more resilient. Tips that anyone can use based on the ten skills these Hall of Famers invoked singly or in combination to overcome incent, murder, cancer, death of a parent, divorce, and much more inspire and uplight the audience. 
 Hollywood: Her Story
Women have been involved in every aspect of movie making since the early days of the industry. In fact, in those early years, women were involved in every part of it. The highest paid director in 1916 was a woman. Yet, when movies became big business, they were pushed out of many areas of filmmaking. Women continue to this day to try to reclaim all of those roles. The book on which this talk is based profiles more than 1200 women from directors to producers to stuntwomen to actresses and costume designers to screenwriters to composers. This talk pays tribute to the spirit, ambition, grit and talent of these filmmakers and artists.
Hidden Figures in STEM
They may be mostly invisible, but they have made major contributions to our way of life – historical and current women engineers and scientists.  Most of the public can only identify Marie Curie when asked to name a woman scientist.  Few know that her daughter Irene Joliot-Curie was also a Nobel laureate in the sciences.  From the safety of the food we eat, to the ability of everyone to use computers today, women have helped make our lives better.  It is time to honor women! See Jill giving a variation of this talk by clicking here.
The Power of the Women on Whose Shoulders We Stand
Women have been at the forefront of social reform in the U.S. since the country's founding. They used five leadership skills that are beneficial for leaders in the twenty-first century to possess. The five leadership principles are demonstrated through examples of the women who came before us and who utilized vision, ethics and values, community, stewardship and passion.
Women Who Network Change the World
Networking is a key job and life skill that facilitates professional and personal progress and success.  This presentation includes an interactive piece where the audience practices networking in an effective and meaningful manner.  Examples of how women through history used networking to change the world including ending slavery and gaining the right to vote are incorporated.  
Failure is Impossible: The Legacy of Susan B. Anthony and the Suffragists
An overview of the evolution of women's rights in the U.S. with a focus on women's right to vote. Very few people know that it took 72 years of very hard work for women to win the right to vote. Women suffrage leaders are profiled and women's accomplishments in the political realm since ratification of the Nineteenth Amendment to the U.S. Constitution are described. 
"Every time I hear Jill Tietjen speak, I am struck by her positive energy and her ability to relate to the audience. She inspires and energizes her listeners; at the end of the talk, they end up crowded around her asking more questions."
Ingrid Soudek Townsend, Charlottesville, Virginia
Click here

 
for more Information about Jill's presentations related to her bestselling book

 

Her Story:  A Timeline of the Women Who Changed America

 

If you are interested in scheduling Jill at your upcoming company function or other event, please use the E-mail Form below so that we can contact you.